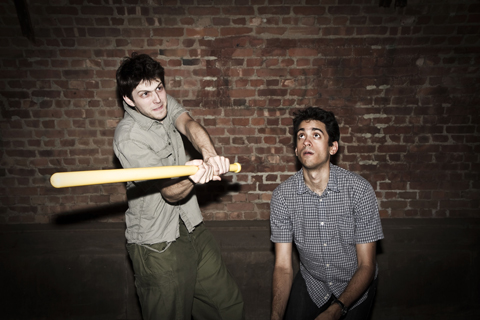 Need your fix of local music this summer? You've come to the right place, as we have highlighted some of our favorite Boston acts who are poised for big things in 2012. Below are 5 bands that we love and think you will too if you don't already. Check out the list and let us know what you think!
You Won't– This local duo (pictured above) wasn't on our radar until our friends from across the pond, Alcoholic Faith Mission visited us to play a short set on the porch at Caroline's Somerville apartment. The guys and gal of AFM couldn't say enough about their Old Flame labelmates, who they were also sharing a bill with that night at TT The Bear's. Leave it to us to take advice on local music from a bunch of Danish people, but hey sometimes it's difficult to spot something great even if it is right underneath your nose. You Won't is Josh Arnoudse and Raky Sastri, and their debut LP Skeptic Goodbye has quickly become a favorite of the M&T crew since receiving the recommendation from AFM. The album is a beautiful blend of folk and pop, with catchy hooks and an impressive array of instrumentation for only two members. You can hear "Who Knew" on the M&T Monthly Playlist for June and we also suggest giving a listen to "Three Car Garage" which you can stream below. Both tracks will most certainly entice you to stream, and subsequently purchase, Skeptic Goodbye from the group's bandcamp page.
Fat Creeps– This lo-fi surf-rock trio is made up of Mariam Saleh on bass, Gracie Jackson on guitar, and Jim Leonard on drums. Since being nominated in the New Act category of The Boston Phoenix's Best Music Poll, the group has been hard at work on a new EP and music video, both due out this summer. Leonard describes the video as "Beach/pool party themed and features girls in pizza costumes and people ingesting toxic waste." Coming from anyone else I would be a bit confused and maybe even concerned, but the video concept makes complete sense for Fat Creeps. Take a listen to "Leave Her Alone" below and catch Fat Creeps at Precinct on July 7th with Thick Shakes and Royal Wedding.
Friendly People– The story of Friendly People starts off the same as that of many Boston bands– kids meet at Berklee, start a band, record a few tracks, play some local shows. For many bands out of Berklee that is where the buck stops, graduation comes and members go off their separate ways to pursue various projects. Here's to hoping that Friendly People will not meet a similar fate, because from what I have seen/heard this group has the potential to make some noise beyond the local music scene. Frontman Pat McCusker (also guitarist of Moss Points North) has a personality and stage presence that is engaging and infectious to say the least. Watching his mannerisms and demeanor both on and off the stage, I can't help but be reminded of Jim James. Regular readers of M&T would understand that praise like this is not doled out lightly as Mr. Yames is regarded as a higher being around these parts. When we caught Friendly People play Brighton Music Hall as part of Air Traffic Controller's CD release show a few weeks back, we couldn't help but be drawn in by McCusker's energy and the deft musicianship of each of the other band members. The group is currently working on new music and to say that we are excited for fresh tracks from Friendly People would be an understatement. While you anxiously await new tunes from Friendly People, check out the epic "A Lot of Work To Do" and download three tracks for FREE here.
The Grownup Noise– These pop-rockers have been making music in the local scene for almost 6 years and if you have yet to listen to The Grownup Noise then you've been missing out on a lot of fun. Their latest effort, 2011's This Time With Feeling, is a 12-track journey guided by floating harmonies, swaying strings, invigorating horns, and heartfelt lyrics. Consequence of Sound's review of This Time With Feeling says that, "Boston should be proud," and we most certainly are. Luckily for those Grownup Noise newbies out there, the band will be taking to the road next week including a show on July 14th at Lizard Lounge in Cambridge with Minneapolis legends The Honeydogs. Get your tickets for that show here and take a listen (or ten) to "The Artist Type" as preparation for a wonderful night of live music.
Sand Reckoner– Rounding out our list may be one of the most intriguing new bands on the Boston scene. Sand Reckoner's self-titled debut is a fusion of blues and psychedelia that hearkens back to some of my favorite groups from the 1960s such as Procol Harum and Cream. My introduction to Sand Reckoner was the song "Morning Star" (listen below), and upon hearing the opening riff I felt like I had been launched into a time machine and sent back to 1969. I closed my eyes and could see myself swaying back and forth in a slow-motion sync with the guitar and when the guttural chants kicked in, it was game over. I was hooked and immediately felt the need to toss on a bandana, sunglasses, a tie-dye tee and grow a mustache. Sand Reckoner's debut is full of similarly transcendent songs and you can hear the magic yourself by naming your own price for a download of their new LP. Sand Reckoner will be playing at The Middle East Downstairs with A Place To Bury Strangers on July 29th, get your tickets for that show here.