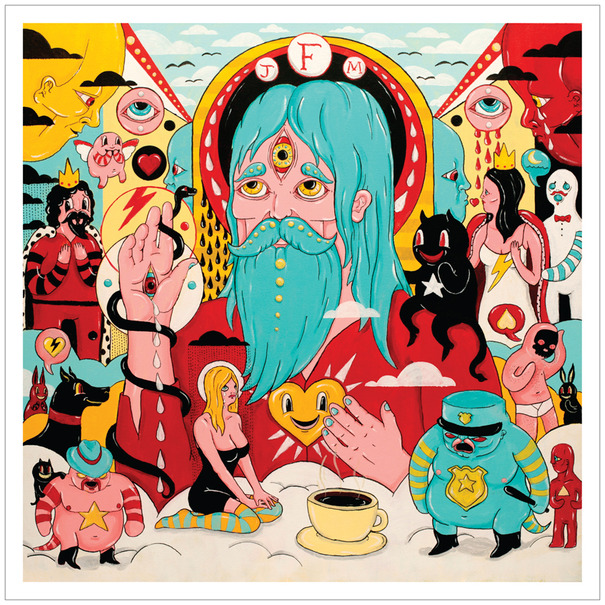 It pains me to say this. It really does.
But I'm kind of really sick of Fleet Foxes, and it's all my fault. I spun Helplessness Blues to death, just like every other young adult out there with a half-baked taste in music. And now I'm simply heartsick for a fresh fix of my favorite folk superstars.  Helplessness Blues was folky-rock perfection, but it's time to retire the album for a bit before I turn vegan, move to Seattle, and apply for a job combing Robin Pecknold's beard or something.
But have no fear indie-philes, because hope is approaching on the horizon in the form of Father John Misty. Former drummer and singer of Fleet Foxes, J. Tillman, has released two killer tracks under this bizarre stage name, and they easily fill the Fleet Foxes shaped hole in my heart. The first cut off of his upcoming LP Fear Fun is "Hollywood Forever Cemetery Sings." What the song may lack in token Fleet Foxes harmonies and woodwinds, it makes up for with distorted electric guitars and witty, endearing lyrics. From "Hollywood Forever Cemetery Sings" to the bongo-riffic second single "Nancy From Now On," we gain a few takeaways:
1. Tillman needs to cool it with his song titles; this is getting ridiculous.
2. Father John Misty won't just tide us over until the next Fleet Foxes album. Rather, his work is poised to become an integral part of our music collection in its own right.
View the trippy video for "Hollywood Forever Cemetery Sings" below (featuring Aubrey Plaza from Parks and Recreation), and be sure to join us at the Father John Misty show on May 16th at Brighton Music Hall.